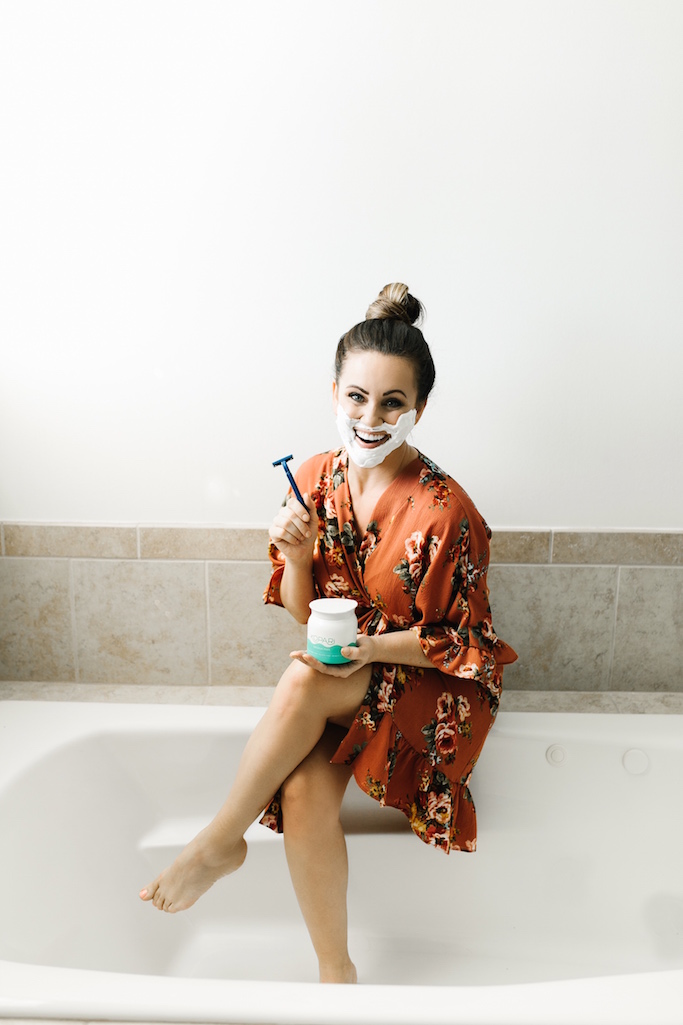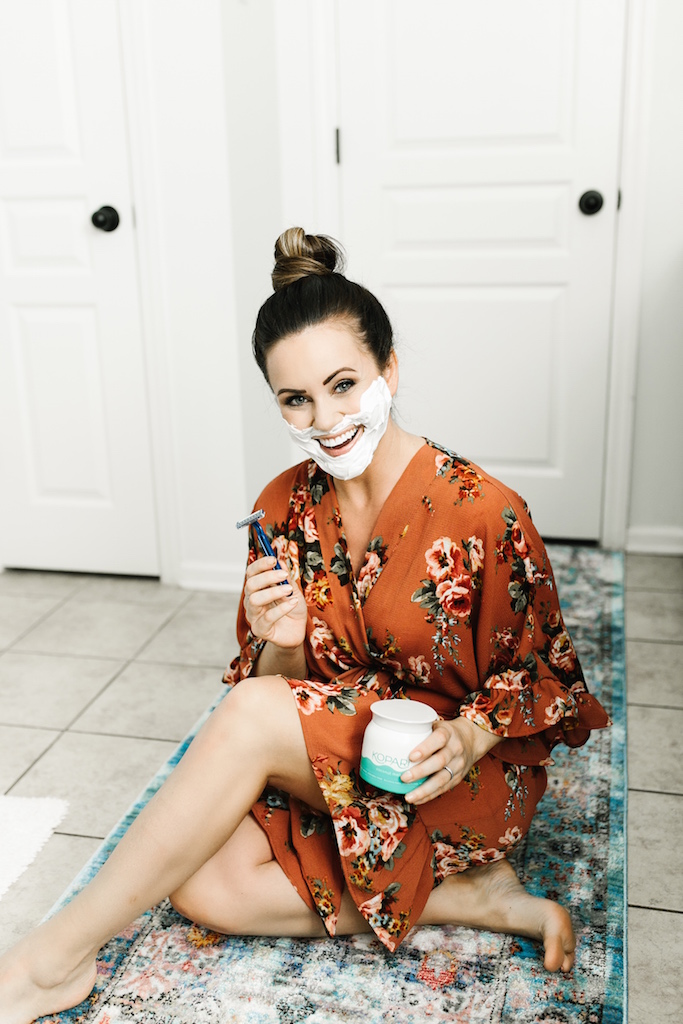 Photography by Madi Flournoy Henderson
ROBE || PARADISE PEONY RUG || COCONUT MELT
I'll always remember the first time that I had my face dermaplaned. It was a little more than 11 years ago, the week of our wedding. I went to a med spa several days before our wedding to have a facial and they asked me if I wanted to add on dermaplaning. As the aesthetician describe dermaplaning to me, I was reluctant to agree because after all, she would be shaving my face and didn't our Mom's always tell us…
"Don't shave this or don't shave that because your hair will grow back thicker." OR "Your hair will grow back darker." Etc. etc. We've all heard this one time or another.
But after learning more about this skincare procedure, and asking probably way too many questions, I agreed and my face was dermaplaned for the first time and I've never looked back since.
Over the years, I have had my face dermaplaned numerous times and I remember talking with a friend, who works in the skincare industry, and she said that most everyone who works in the industry shaves their own face at home. Wait, what?! Yep, you heard me right. Now, don't get me wrong, having a pro do it for you is highly recommended…especially if you have never had your face dermaplaned before. But there is nothing wrong with taking charge of your skin health and shaving your own face as well (again, once you are comfortable with this).
It's no secret, so I'm not letting a cat outta the bag but there are a lot of people who do this themselves.  I've personally been shaving my own face for YEARS and always have great results. And yes, I do still have my face professionally dermaplaned from time to time but in between these very spaced out visits…I shave my own face once a week!
Wonder why I shave my face?  Here's why…
Promotes smoother skin
Exfoliates skin and removes dead skin cells
Removes all of that peach fuzz that can trap dirt and oil
Reduces recent acne scars
Reduces fine lines and wrinkles
Cost effective with no down time
Bonus…your makeup looks flawless!
Wonder what I use to shave with? Let me tell you…
Men's Bic double blade disposable razors **there are tools available specific for dermaplaning that you can use, however I have found that men's disposable razors work best for my skin and they are cheap! I can usually get 2-3 shaves out of one razor!
Coconut oil & hot water **I use Kopari Beauty's Coconut Melt (think high quality, pure ingredients), however you can use any type of coconut oil, face oil, olive oil, etc.
I use these pads immediately after shaving my face to clean the coconut oil off and to help prevent breakouts. **My skin typically does not break out since I use these!
When I shave…
As I mentioned, I shave about once a week, sometimes I go two weeks and I almost always shave immediately following a hot shower.  That is when your skin is soft and your pores are open.  I apply a thin layer of coconut oil on my skin, stand at the sink with hot water running, and start my shave.  I shave from my upper cheek bone down including upper and lower lip.  I do not shave my forehead but you can if you have a lot of hair in that area (I leave my forehead for the pros).
And that's it…super simple and easy to do!  Again, if you have never had your face shaved, "dermaplaned", I highly recommend that you have a professional do it first to see if you even like it.  Pretty sure you will not only like it but you will LOVE it and end up being hooked like I am.
Let me know if you have any questions!  I'm always demonstrating how I shave my face on Instastories so be sure to follow me on Instagram as well.
Time to freshen up for Spring my friends…your skin will thank you!
As always, thanks so much for stopping by!